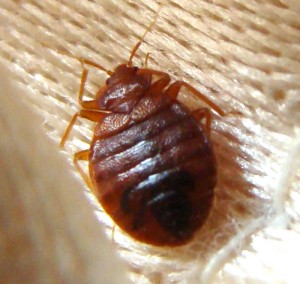 If you unfortunately come across Bed Bugs don't panic as they won't chase you, they don't fly, and don't spray over the counter products as more likely you will help to make the problem worse as they may spread to other areas.
The Don'ts
Don't toss out any furniture of infected rooms unless told to do so by a true professional, most if not all your furniture can be saved. Also you will hinder the inspection process.

Don't launder sheets or any fabric related items in infected rooms, this will come later.

Don't sleep in another room to get away from the Bed Bugs, they more likely to hunt you down and infest other areas.

Don't, Don't, Don't under any circumstances are you to fog, fogging (bombing) will not correct the problem and highly likely to infest other rooms and/or adjacent units.
The Do's
You can place a tight fitting towel under the door of the infested room, use tape or child protectant guards on unused electrical outlets. This will assist in keeping the bug isolated in target room.
You can place Bed Bug specimen in clear zip lock bag.
Do your homework if you're going to hire a professional, shamefully like any other industry we are now 15 years into the Bed Bug epidemic and the level of professionalism is lacking.
Ask detailed questions and demand a warrantee.
Look at public review forums i.e. Bedbugger.com reviews can be manipulated, DO YOUR HOMEWORK!
Overall a physical inspection/assessments 99.9% of the time needs to be conducted.
Inspections shouldn't be done over the phone as no two Bed Bug jobs are alike each has its own challenges and the prep must be customized to the customers' needs. Not everyone has to pack their lives away and launder everything as if you were moving away. In some cases this may be part of the prep process, but only with performing inspection can we truly customize your treatment plan. This isn't a scam this is the proper way of dealing with a Bed Bug problem. If this makes sense to you please give us a call we will be more than happy to discuss your Bed Bug problem at detail and no pressure. We give you the information you decide, we offer Bed Bug eradication packages for all budgets. Most everyone can now afford a Bed Bug treatment, what you can't afford is not making the call to Freedom and take full advantage of our treatment packages.