Your home is one of the most important investment you make in your life time. It's the place where you keep yourself and your family safe, and create beautiful memories. Our job is to make sure that pest problems don't get in the way of creating those beautiful priceless moments. My promise to you as owner of Freedom Pest Control is my personal involvement in creating and implementing the best possible solutions. I will make myself available to you to address any pest control concerns you may have. Whether is a roach or roaches, mouse or mice, a bed bug or bedbugs go ahead make those memories and leave the pest worries to us…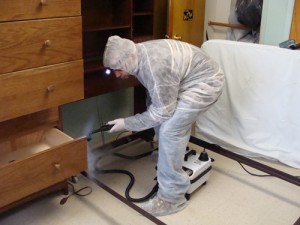 Concerns with the kids, grandparents, or caring for a love one at home? We are truly the company you seek as we don't react to a pest issues, we respond with a host of proven comprehensive GREEN methods of eradication.
Methods or Pest Eradication
One method for eradicating roaches from your home, "Physical Removal" no dangerous pesticides used. Our high power vacuums will physically remove the majority if not all the roaches without a drop of pesticides. "Yes Hundreds Of These Critters Gone In Minutes Like Magic".
Cryonite Treatment
Cryonite the latest breakthrough technology in combatting pest problems without a drop of pesticide. For us older folks or better said wiser folks lets us go back in time. Remember Batman & Robin, the cape crusaders fighting off The Joker, The Penguin and Mr. Freeze with his freeze gun? Well that freeze gun exist today called the "Cryonite". "Yes Hundreds Of Critters Frozen In Time Never To Crawl Again".
Read more about our Cryonite Treatment Services
These are just a few of the reasons you need not look further, Freedom Pest Control for all your pest control needs. We service many environments and deliver the solutions you need most.
Townhouses
Private Homes
Condos/Coops
Rentals
Apartment Buildings (Special Pricing For Landlords)
Customer Review

I lived in Park Chester house's for years, it's a nice middle income community in the Bronx. The above neighbors moved out and that's when the horror began, roaches! First it was one roach and as I will not accept a roach I called a well known Pest Control Company and they were very clean and neat with nice uniforms and they assured me that the issue would be resolved as they only use the best stuff. Well 1 roach became 2 and 2 became 10 and so on…. I called the company back and for a small fee they returned with their little silver metal tank and sprayed again. But it wasn't resolved and then a friend gave me Freedom's number and they came out clean and neat with nice uniforms so I had reservations. However the technician asked a host of questions and asked if the last company left a receipt with the product names of what they used. He gave me roaches 101 which was appreciated and pointed out what they call "Entry Points". He treated with more than just a tank and he sealed the entry points and returned 2 weeks later for a follow up, and at this point it was more of a courtesy visit because I never saw a roach again. I highly recommend Cesar and his team and I have done just that to many firends. Well five years later no roaches and I now moved and yes I had Freedom come and do preventive magic at my new place. I have authorized Freedom to use my review.

Sandra M.